¡@
Introduction of Arrow Root
In corner of Oriental Supermarket,
Displayed with yam and potato,
Does not look prominent,
Do you know what it is good for?
¡@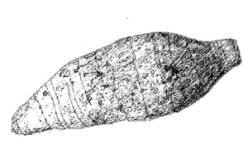 Arrow Root is a large perennial herb of the family Marantaceae, found chiefly in warm forest habitats, natural or cultivated. The root is used for herb. The good fresh root is white and with dense texture. Taste is sweet. It is mild and not poisonous.
Effect: Help the functioning of spleen & stomach, reduce the fever, stimulate stomach activity and produce saliva. Use from ancient times for improving sweating and reducing fever. It can quench thirst, avoid vomiting, relax aching head and frozen shoulder. The formula "Arrow Root Soup" is effective in relieving aching head and frozen shoulder caused by hot-natured cold.
Arrow Root can increase circulation in coronary artery and brain. It can reduce the oxygen need in heart muscle, improve blood flow between heart and neck artery, relax the muscle in shoulder and neck. It is very effective for people living under high stress, especially computer workers with shoulder and neck pains.
Diet healing methods: Fry shreds, deep-fry slices, steam, mashed, cooked as Porridge, used in soup. (cf. 1999 Evergreen Healthy Vegetarian Recipe)
¡@
Recipe 1: Arrow Root & Oyster Mushroom
1. Arrow Root 8oz.: Peel and slice across the fiber. Cut into shreds. Dip into water and let dry. Carrot 2oz.: shredded. Oyster Mushroom 6oz, sliced.
2. Fry Arrow Root with 2 Tbsp water till almost dry. Add ½ Tbsp oil. Add carrot and Oyster Mushroom. Add 3 Tbsp water and 1 Tbsp soy sauce stir-fry for a while.
3. Just before done, add corn starch water, then ½ Tbsp oil, dash of pepper & sesame.
Recipe 2: Arrow Root and Fruit Puree
1. Arrow Root 6oz.: Peel and slice across the fiber. Cut into dices. Cook in rice cooker with 3 cups water inside the inner container and 1 cup outside.
2. Peel and cut into small pieces for ¼ pcs of apple and papaya.
3. Pour everything into blender and add 1 tsp of honey. Puree.
¡@
Arrow Root Stimulates Brain Circulation
Frequent Use of Arrow Root Prevents Flu!
¡@

Evergreen Healthy Vegetarian Association¡@

¡@

¡@