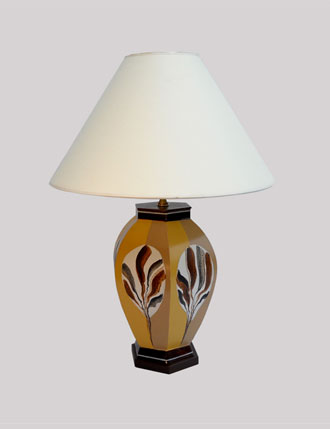 Contact Two Girls Arts to Purchase
212.929.2210
PALMATE VASE LAMP

Alternating vertical gold and coffee bands embellished with a striking leaf motif evoke 189h century Mocharware designs. Palmate was the name that collectors used to describe a lollipop, balloon or tobacco leaf motif.

Hand painted with water based pigments and a sealer.
Single socket with a brass finish.
8" brass harp and finial included.
UL listed with gold cord and a 3-way switch.
100 watt max.
8" brass harp and finial included.

Wipe with soft, dry cloth.
Measurements:
8" W, 6-1/2", D (base) X 14-3/4" high (vase height) X 26" high to the top of the lampshade.
Shade not included.
Our recommended shade size is 6" Top x 18" Bottom x 12" Height
Retail Price:
$695.00
Toleware Lamps are hand crafted and hand painted and finishes and vase sized will vary slightly.